Permission to Appeal
London-based Permission To Appeal, was formed in 2014, and prides itself on undertaking performances at a range of different functions, from background mood-music, through affecting ballads, to up-front and lively.
The various members of the sextet have a range of different musical backgrounds but are united in their love of jazz in so many of its forms: trad, big-band, be-bop and even funk, some popular and well known, others more obscure, but all chosen with care to reflect the character of the band.
The numbers that the band present will be instantly recognisable in form and sound, but will also be rendered quite individual through inventive – not to mention entertaining – improvisation.
Permission To Appeal is very happy to play at your event – just contact us for a chat, and we'll sort it all out for you. Nice!
Music
Enjoy the luxurious sounds of Permission to Appeal captured live!
St Thomas
Pink Panther
Ntyilo Ntyilo
God Rest Ye Merry Gentlemen
The Girl From Ipanema
Fly Me To The Moon
Don't Get Round Much Anymore
Cantaloupe Island
Bare Necessities
The Band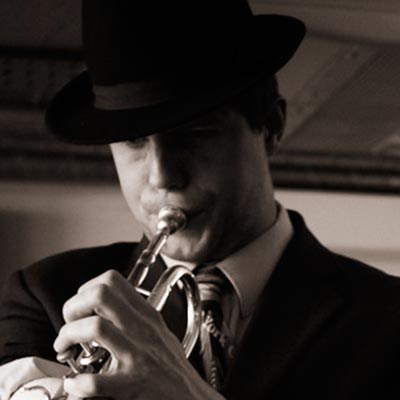 Mike Roberts
Growing up in deepest, darkest Portsmouth, Mike learned nothing about jazz in his youth, opting instead for healthy doses of classical music and good old rock'n'roll. Having had enough of the fresh sea air, he moved to London to see what all the fuss was about.
Picking up a law degree in the process, Mike became a regular player in the jazz scene and claims to hold the record for most number of times escorted off stage at Ronnie Scott's. He is fast running out of disguises.
Mike is now a Clinical Negligence Solicitor at Leigh Day and, along with nearly everyone else in the band, is one of the founding members of Permission to Appeal. When asked why he chose trumpet, Mike replies "Well, it only has three buttons so I thought it'd be easy". How wrong he was.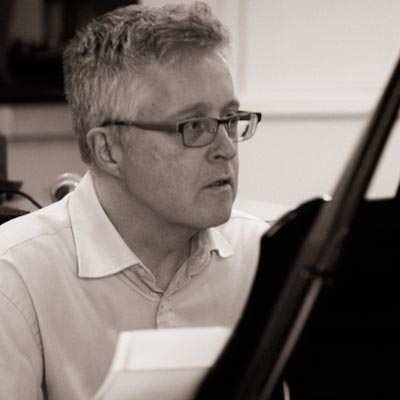 Chris Esdaile
Chris' eclectic musical career focussed initially on choral singing – he has sung in choirs in the UK (including Westminster Abbey Special Choir as a boy treble), and whilst living in South Africa and Chile, and he set up and conducted a choir whilst at at University.
He spent 10 years as part of world music group Kopanang, performing for radio, TV and at festivals in the UK and in Europe. With Kopanang, he developed his percussion playing (including djembe), and whilst in Chile he learnt to play the charango (South American mini guitar).
He has composed and arranged music for choirs, and produced a CD of his own jazz-tinged ambient electronic music in 2003.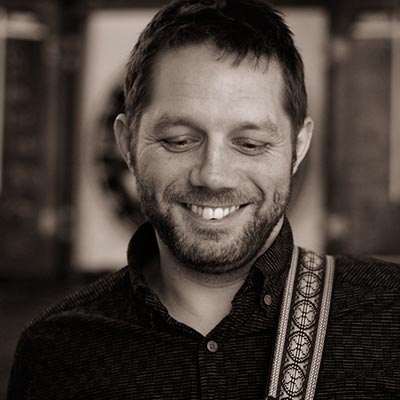 Peter "PJ" Hopper
Born not long before the 80s struck, PJ grew up the son of a musical preacher man in the wilds of North Eastern England. Always hankering for his dad's guitar, he got his own at the age of six, and began his musical journey. Picking up the bass at fifteen, he and his friends (including his now brother-in-law) formed a band, eventually to be called go-carter, which would bring them all to London five years later.
Since the break-up of that band, PJ has worked mostly as a singer songwriter, and later with vocalist Miles Elliot. By day he works in legal accounts at Leigh Day and he gives his pastimes as rugby (King's Cross Steelers RFC) and talking to strangers.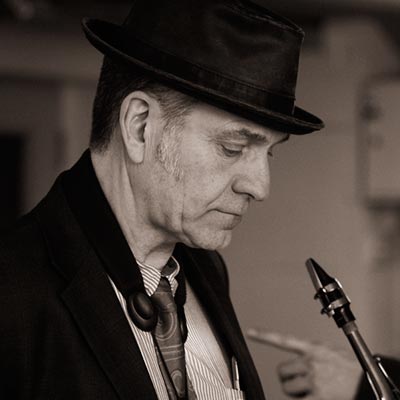 Luigi Sterlini
Dyed-in-the-wool Londoner (of Italian extraction) Luigi has been playing alto sax since 2007. He plays in other bands, including his very regular, long-term group Eat The Lemon, and 10-piece occasional pop outfit The Power of Ten, in which he occupies the guitar-playing slot.
Asked why Luigi has chosen also to play jazz saxophone – currently a Selmer Mark III – he replies: "It's the very sound of the human voice and the very sound of a person's soul". Nice!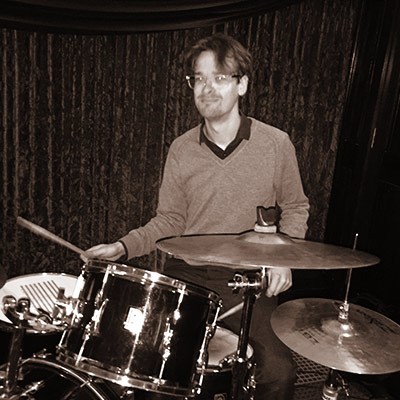 Mark Tomlinson
Mark's been playing drums for the best part of fifteen years. Longer if you count rudimentary drumkits assembled from his mother's pots and pans.
Hailing from Watford, a town so unexotic the local steakhouse was shutdown when it turned out their antelope steak was actually horse, Mark was not even aware such a thing as Jazz existed until he moved to London. There he became rapidly engrossed in the musical offerings available to him, particularly the UCLU Big Band.
Since leaving University he has acted as a gun for hire in a myriad of different bands (and genres) including function bands The 145s, The Fitzroy Six and the UK's only Manowar tribute band: Hanowar. He currently plays drums for experimental-pop producer Holy '57 and works in a museum when he's not engaging in his own multiple creative endeavours. He hopes to stay there long enough that one day he'll become an artefact himself and people will finally find him interesting.
Highlights of his jazz career include sneaking the solo from the Metal band Mastodon's 'Iron Tusk' into a version of 'Sing Sing Sing' and (along with Mike) managing to somehow remain upright during a jam on a boat at three in the morning whilst on tour in Prague.
Esteemed Alumni
Permission to Appeal has a rich family tree; our mic stands, guitars, and more have been graced by these fine musicians.
Leila Grove
Carmen Alger
Cat Harris
Giacomo Zucconi
Ryan O'Riordan
Stefan Siwiak-Jaszek
Contact
If you want to find out more about us, or want to book us for a gig, get in touch via email!